Saturday, March 23, 2013
Thursday, September 6, 2012
Saturday, September 1, 2012
"
Are you at Dragon*Con? Send your pics to onesheekgeek@gmail.com and we'll feature your best cosplay in our gallery!
"
Friday, August 31, 2012
Cosplay Friday: Dark Phoenix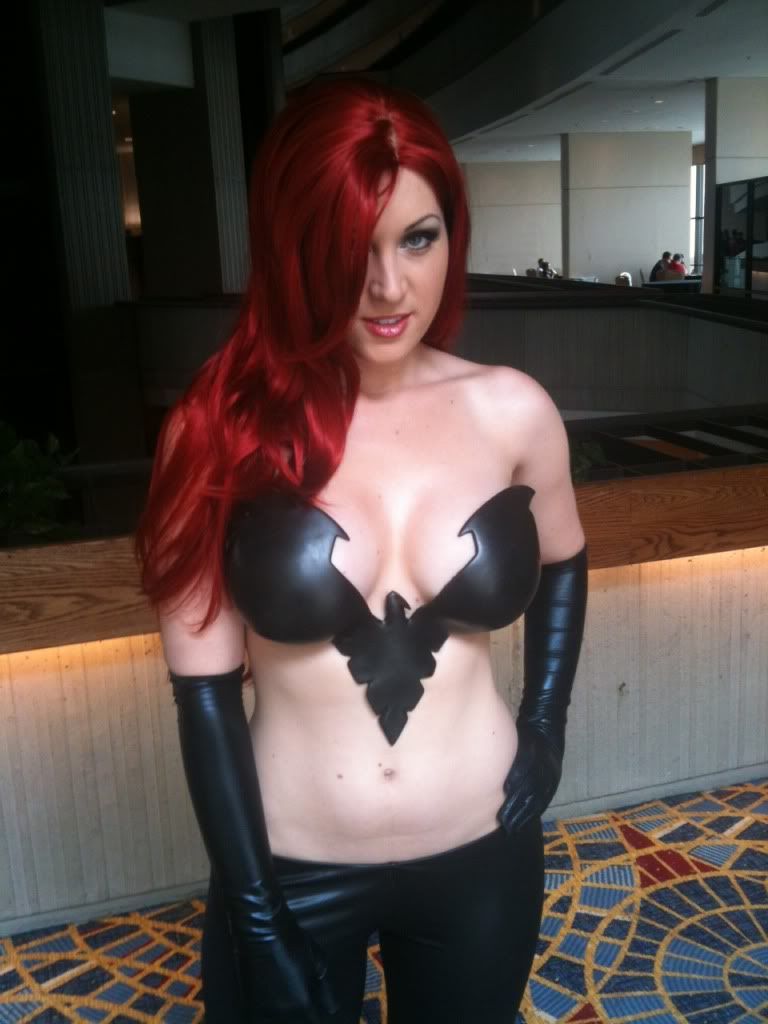 Model: Michelle Smith
Dark Phoenix top: Rage Custom Creations
Unveiled at DragonCon 2012
Thursday, August 30, 2012
Tuesday, August 21, 2012
Monday, August 20, 2012
Sunday, August 19, 2012
Friday, August 17, 2012
Cosplay Friday: Rage
Cosplay Friday is a weekly column that highlights individuals who contribute their talents, innovations and passion to the costuming and convention space. Every Friday we'll feature a selected costumer, prop maker, photographer, seamstress, or creative contributor who is making waves in the beautiful world that is 'cosplay.' If you have someone you would like to recommend for a Cosplay Friday please email OneSheekGeek@gmail.com.
There are few people in the world who have the ability to make doing what they love their profession – especially when what they love is cosplay. But Carlos "Rage" Blanchard has found a way to do just that. As the founder of Rage Custom Creations and a cosplay veteran of more than 10 years, Carlos is famous for creating some of the most badass costumes you've ever seen and not to mention, looking dead sexy in a Batman costume. 
In this Q&A, we'll learn more about the man behind the mask, details on what he's planning to debut at next month's DragonCon and his efforts to creating what he coins, ConFashion – high end female costumes. Can somebody say, "Yes, please!"
Name: Carlos M. Blanchard
Con Name: Rage
City, State: West Palm Beach, Florida
Years creating costumes? 10+
How many cons have you attended? (If you can remember. I'm sure it's a lot.)
 Lost count ages ago
Favorite costume to wear? Batman
Favorite costume(s) to see on the opposite sex: Catwoman, Poison Ivy, Batgirl, Machiko, Black Widow, just to name a few.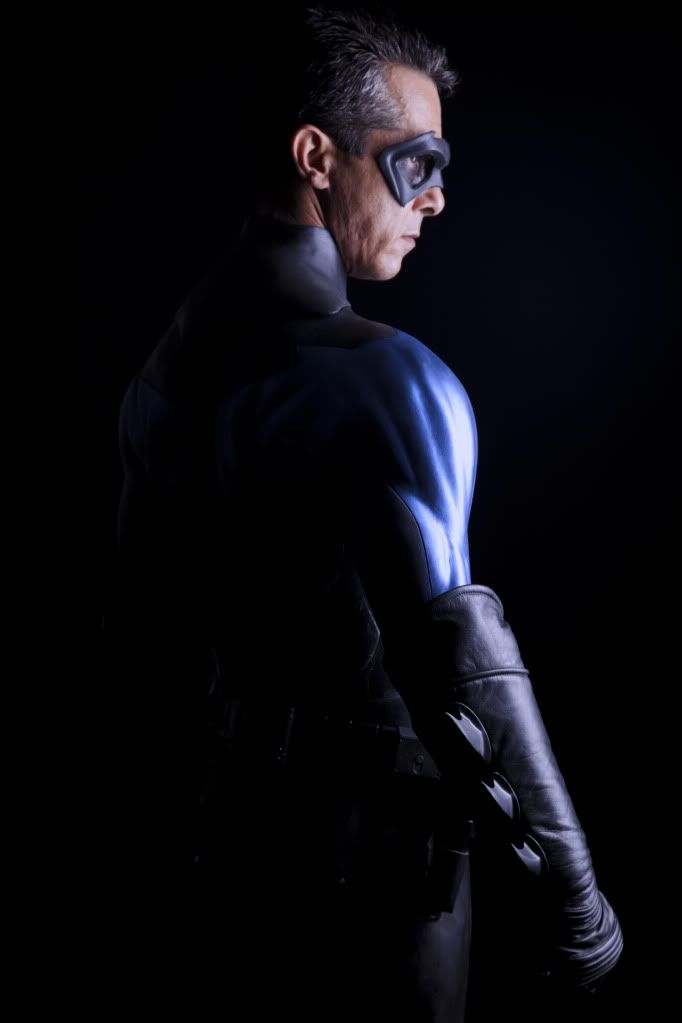 Your work is breathtaking! How did you develop the skill to create such beautiful costumes?
Thanks, It really was a matter of loving the hobby and necessity that forced me to develop my skills in costuming. I already had a foundation in graphic art, so that helped, and once the costume bug hit, I put all I had into learning what I could in order to make it myself, and become better at this craft/hobby. Being creative is a very large part of who I am.
There are so many talented costume/prop makers out there who have inspired me to be better, and do greater things. The list is long, but worth mentioning are Shawn Reevez, Laban Boldero, Mike Schiffbauer, Bob Dullam, Angela Mash, Brin Londo, Jane Justice, and David Carpenter, just to name very few. There are so many others I could name. But these are the people who inspired me to do what I do, as well as the enormous amount of help and guidance they have given me through out the years has been invaluable. It's the camaraderie between these people and the costuming community that have also spurred me to be and do the best I can.
It seems like you've developed quite the cosplay career. Tell us what it's like making something you love your job.
Well, that was mainly out of necessity, lol. I was laid off several months ago and fortunately had enough savings where I could use my reputation in the costume world and try to make a living at making costumes and props on a commission basis. Risky, but this was my chance to get it off the ground since I had been getting a lot of positive press for my Medieval Batman, My redesigned Poison Ivy costume, and then the Facehugger Corset that all went viral – which it still amazes me that I was so well received for doing any of that.
Of course the credit for the Medieval Batman build goes to Samuel Lee at www.princearmory.com. He is without a doubt the greatest leather armor maker there is, and really did an extraordinary job bringing my vision and design to life.
But with all that under my belt, and having been doing this for so long anyway, I figured I would start Rage Custom Creations, and assemble a crew of the best talent I could find to help me with this venture. So far, I think I have the best team anyone could possibly have outside of Hollywood. We are working on some amazing things at the moment and have a long list of costumes and props that we want to make available soon.
One of the big things I wanted Rage Custom Creations to focus on was, and is, High End Female Costumes. Unfortunately, they are often overlooked in a predominantly male hobby (although that is changing). So by focusing on this specific market, I have been able to be super creative, and make some of the best things I have ever done in the years I've been doing this, and really, I've only just begun!
I also, with the help of my extraordinary team, am focused on making geek fashion, and what I mean by that, is making costumes that are original in design and style. The Facehugger Corset was my first foray into that, and when I saw that the Stan Winston School of Character Arts featured it on their FB page, and was hugely well received, I knew I was on to something. So with that in mind, the next CosFashion I am working on, will be debuted at DragonCon this year. I am keeping this one close to the vest cause I want the reveal to be a surprise. I can assure you, it will be a sight to behold.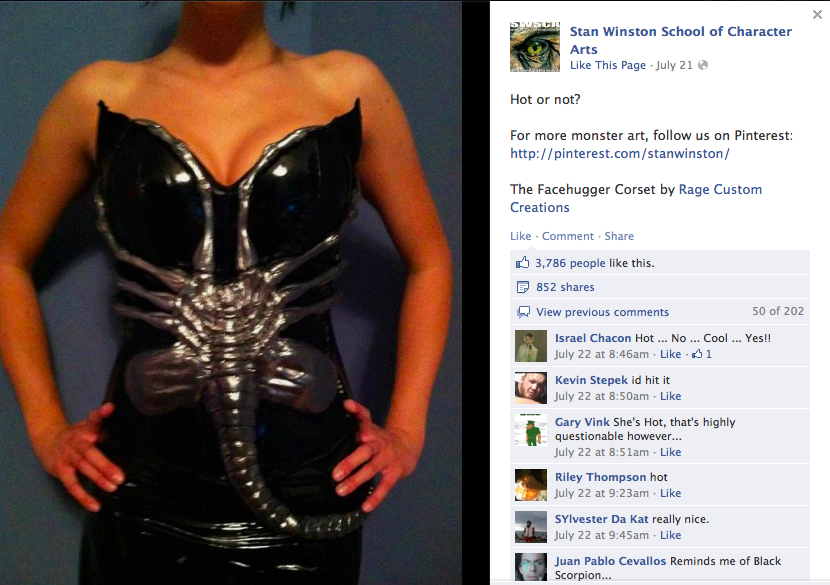 How did you begin creative directing? Tell us what you enjoy most about it.
I have worked in the advertising industry for many years, and my last position was as a project manager for a graphic design company, so it is a skill I have developed and loved for many years.
It gives me the ability to use my creativity in a way I normally wouldn't in my everyday life. My greatest challenges have always been taking things that are for the most part ordinary and dull, and making them exciting. It's always a wonderful challenge to tackle something like that.
Recently, I have had the great fortune of working with some amazing photographers, such as Adam Jay, Max Cookies Power, Stacy Hokett, and Christina Mendenhall, to name a few as well as some of the greatest costumers walking the face of this planet, to bring some of my concepts to life.
I have always wanted to do very stylized costume photography in ways that haven't really been done before. The most recent one being the Mary Jane/Gwen Stacy Venom shoots, which got a lot of attention. With those, I was able to create a story based on one of my favorite comic characters ever, in a way that I had never seen. Alexia Jean Grey and Freddie Nova did amazing jobs as the models for the shoots, and had to endure me painting them both in liquid latex on their bodies for hours, but brought a passion to the shoot that is completely evident in their photos. Adam Jay and Max Cookies Powers also brought their A games, and believed in the concept, and did an amazing job incorporating their individual styles to this project. I couldn't be prouder of how they all came out. The exchanging of ideas and the creative fellowship, is, in a nutshell what I enjoyed most about being the Creative Director.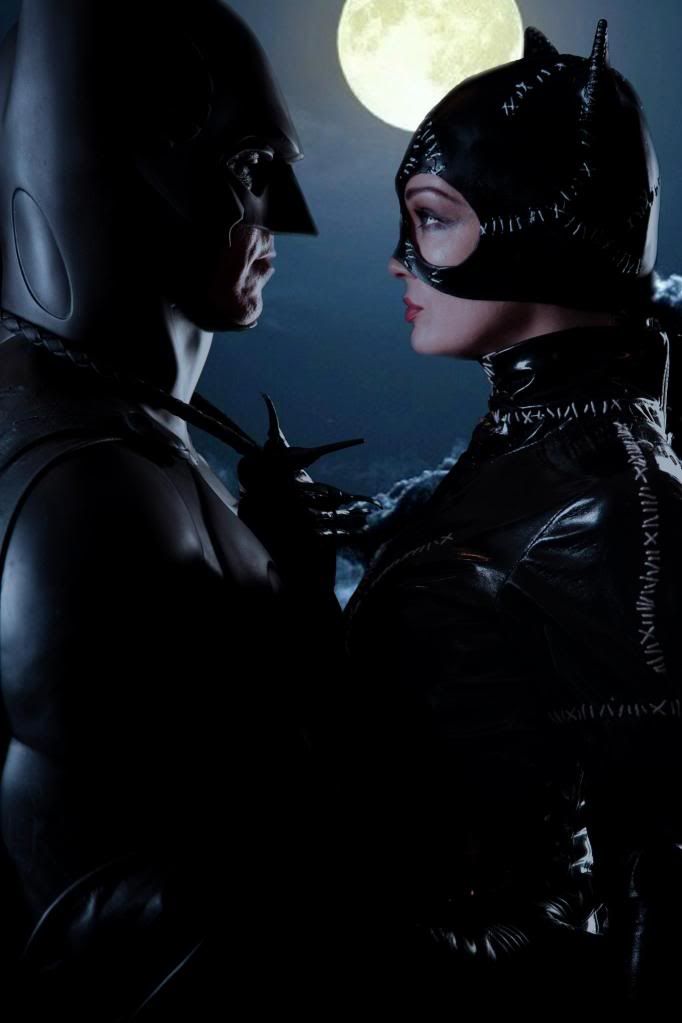 Do you create all the costumes in your shoots?
I wish I could say that I did, but for the most part no. Although the Venom, Poison Ivy, and Facehugger Corset were all created by me. For the most part, you have Reevez FX, 4th Wall Designs, and Jester FX, to name just a couple, that make some of the best costumes that money can buy, and I've been fortunate enough to use their costumes in my shoots. And I would also like to credit the individual costumers that I have worked with, who have made their own costumes as well. The talent out there right now is absolutely insane, and I am proud to be a part of that.
Any costumes/creative projects in the works you can share with us?
Well, I have the bookend photo-shoot to the Venom pictures I am doing with Adam Jay in late September, but we will be doing Carnage this time. It's going to be amazing if what we have story boarded works out. And of course, as I mentioned earlier, I have a costume that is being debuted at DragonCon in a few weeks that I am super excited about. Outside of that, it really is just whatever anyone commissions, or pops into my head.
When/What is your next con? What costumes can people expect to see there?
Well, if all goes well, I will be going to New York ComicCon in October, then Spooky Empire that same month. At NYCC, I will probably be bringing my Medieval Batsuit, Nightwing, and I haven't really decided on what other one yet. It's really dictated by what I can load on the plane, lol.
Anything else you'd like to talk about?
Just that I want to thank all my friends and family who have supported me in all my costuming endeavors. I have met so many lifelong friends because of this hobby that I am grateful to be blessed with. It is because of them, and the costuming community as a whole, that I have been able to achieve the level of creativity that so few get to enjoy.
Some Geeky Random Q's
Morning person or night owl: Morning
Dragons or sea serpents: Dragons, duh!
Winter or Summer: Winter. Much easier to warm up than to cool off.
Relaxing on the beach or hiking in the mountains: Both actually
LoTR or Harry Potter: LOTR for the win!
(On women) Jeans and a tank top or heels and a little black dress? Depends on the event, and what we are doing. Both are equally sexy if done correctly.
Find Carlos on Facebook: 
Photo Credits: Adam Jay and Stacy Hockett
Editor's Note: I'd like to personally thank Carlos for taking the time to be One Sheek Geek's first-ever Cosplay Friday feature. I can honestly say he is one of the kindest, most unpretentious people I've had the pleasure of meeting and I couldn't be more grateful to him for contributing so much of his time and generosity to this piece.